Dr. Englert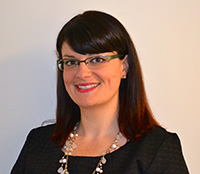 Jessica J. Englert, PhD is a clinical neuropsychologist who specializes in providing neuropsychological evaluations for individuals with neurological conditions, medical illnesses that affect cognition, memory disorders (e.g., Mild Cognitive Impairment, Alzheimer's disease), mood disorders or psychiatric illness, developmental disabilities, learning difficulties, and Attention-Deficit/Hyperactivity Disorder (ADHD).

Dr. Englert has a particular interest and specialty training in working with individuals and families impacted by memory disorders, including progressive memory impairments such as Alzheimer's disease or Frontotemporal dementia. Assessment of the individual and counseling for the individual and family is available regarding adjustment to diagnosis and navigating the treatment planning process. For those clients suffering from significant cognitive and/or memory disorders, Dr. Englert reviews issues related to safety, capacity for decision making, and appropriate level of care with both the client and caregivers.
Dr. Englert also specializes in providing working memory training for children and adults experiencing attention and other executive functioning difficulties. Comprehensive assessment is completed so that tailored treatment plans may be developed to best utilize an individual's cognitive strengths.
A Buffalo native, Dr. Englert received her master's degree and doctorate in Psychology from the University at Buffalo, State University of New York. She completed pre-doctoral clinical neuropsychology training through the Jacobs Neurological Institute and the University at Buffalo School of Medicine, with a focus on the cognitive and behavioral changes associated with Multiple Sclerosis. She completed both her internship and two-year postdoctoral fellowship in clinical neuropsychology and brain imaging research at Dartmouth Medical School. Dr. Englert has worked as a clinical neuropsychologist seeing a broad range of referral needs within practices in Boston, MA and locally in Buffalo, NY. She remains committed to community education, particularly regarding healthy aging practices and encouraging individuals to receive appropriate screening and treatment for cognitive and memory concerns.
Dr. Englert is a member of the Psychological Association of Western New York (PAWNY), New York State Psychological Association (NYSPA), New York State Association of Neuropsychology (NYSAN), and the International Neuropsychological Society (INS).
Find us: